An Absolute Blessing for Our Son
December 10, 2017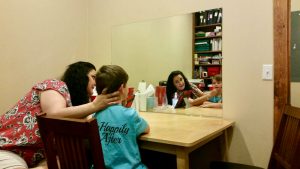 "I want to start off by saying that I appreciate how Susie stays aware of how my child is progressing
(or not) and flexes the program or therapy accordingly to my child's needs and developments—
including how she continues her own education in her field. This is how we ended up hearing about and starting The Unplugged Program. My son has sucked his thumb since infancy. He sucked his thumb so hard that his thumb was raw as a result. This has been a hard habit to break and has had an effect on his progress with speech. Susie mentioned Unplugged and suggested we should try it to help break the habit but also to see if that would help with speech issues my son was having. So we did the 2-week prep and met with Susie to start the program. I wasn't sure how cooperative my son would be but he agreed to do it and even asked for the story to be read twice! He LOVED the sock and remembered to put it on every night. We took home the coloring book and stickers, which helped encourage my son and kept us both on track. It was super helpful to meet with Susie again and call her every morning for encouragement and to celebrate the progress. Overall, I found the program helpful and having Susie's support essential (especially since kids sometimes listen to other adults more than their parents).
I'm glad we did it and we are now thumb-free." —Rebeccah F.